Get a stylish getaway from Ho Chi Minh City to Hanoi exploring all the hidden gems of Vietnam in the tour package of 12 days. See this beautiful country by your own eyes to feel the cultures and charm filling every corner. Add the World Heritage Sites as well as pristine nature for strolling and trekking into the mix to make your Vietnam vacation unique from others.
General Information
Duration: 12 Days/ 11 Nights
Date: No fixed dates
Tour Type: Explore and Experience
Start/ End: Ho Chi Minh City/ Hanoi
Tour Route: Ho Chi Minh City – Cu Chi Tunnel – Mekong Delta – Hoi An – Hanoi – Dong Trieu – Halong Bay – Sapa – Hanoi
Tour Customizable: Definitely! (Tell us what you wish to do in the inquiry form)
Brief Itinerary
Day 1: Ho Chi Minh City Arrival
Day 2: Ho Chi Minh City Tour – Cu Chi Tunnels
Day 3: Ho Chi Minh City – Vinh Long
Day 4: Vinh Long – Ho Chi Minh City – Fly to Danang & Transfer to Hoi An
Day 5: Hoi An Walking Tour
Day 6: Hoi An – Danang – Fly to Hanoi – Transfer to Dong Trieu
Day 7: Dong Trieu – Halong Bay
Day 8: Halong Bay – Hanoi
Day 9: Hanoi City Tour – Night Train to Sapa
Day 10: Sapa Trekking Tours
Day 11: Sapa – Hanoi
Day 12: Hanoi Departure
Full Itinerary
Day 1: Ho Chi Minh City Arrival (D)
Upon arrival in Ho Chi Minh City, we are welcome by Viet Vision Travel's tour guide at the airport, then transfer to our hotel in the city center. Check in and relax. In the afternoon, visit Cho Lon, a Chinese town and market. Here we can experience our Vietnamese Southern daily life. Afterward, enjoy our welcome dinner at a fine local restaurant in town. Overnight in Ho Chi Minh city.
Day 2: Ho Chi Minh City Tour – Cu Chi Tunnels (B, L)
After breakfast at the hotel, depart our hotel for the Reunification Palace, the former Presidential Palace for the president of the South of Vietnam. After that, visit War Remnant Museum, where we can see countless artifacts, photographs, and pictures documenting the second Indochina war. We also stop at Notre Dame Cathedral and Old Post Office to get good shots for our memory of the big, modern city of Vietnam. Our delicious lunch will be served at a nice restaurant in the central city.
After lunch, leave Saigon for the Cu Chi tunnels, otherwise known as the "Iron Triangle" or "Iron Land". On our way there we will drive through the pleasant countryside; rubber plantations and rice paddies. Before entering the tunnels, see a short introductory video showing how they were constructed, followed by an exploration of the maze of tunnels, some of which have been widened to allow tourist access. Also on display are various mantraps and the remains of an American tank, as well as numerous bomb craters made by 500lb bombs, dropped by B52 bombers. After that, transfer back to Ho Chi Minh city. Overnight in Ho Chi Minh city.
Day 3: Ho Chi Minh City – Vinh Long (Homestay) (B, L, D)
This morning, transfer to Cai Be where we will enjoy our boat trip around Cai Be colorful floating market with various local barges full of fruits and vegetables. After the market, stop at local workshops to visit rice paste, coconut candy, pop-rice, and pop-corn production or we visit the handicraft village where the local people make special products of rice-net for spring rolls, fish sauce, soya sauce, cooking salt, sewing coconut-leaves for cottage roof…
In the afternoon, the rowing boat will take us deeper into the countryside along the canals. It's time we feel the peaceful air while passing traditional houses made of wood, and palm tree leaves; farmers catching fish or picking up fruits by the ancestral way in the Mekong Delta. Arriving at the homestay, check-in and enjoy the last but not least activity of the day biking. It will be so amazing to bike on village paths to see the local farms, houses, real life, and the ancestral ways to pick up fruits in Mekong Delta.
During the rest of the day, learn how to cook some dishes with the owners, then enjoy dinner and have a cup of tea or rice wine when talking together. We can ask the locals about this region's culture, people, and history. They do not mind answering some personal questions. Overnight in the homestay.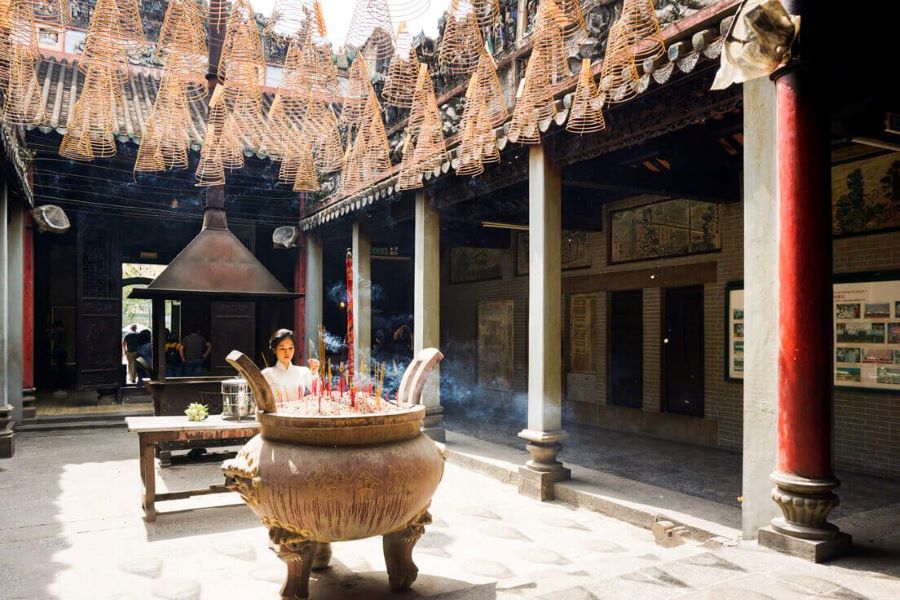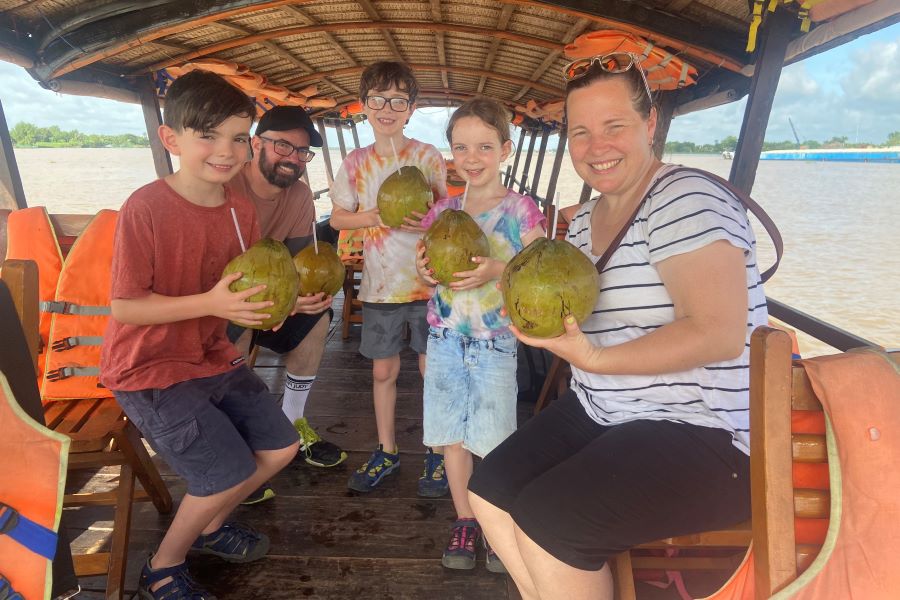 Central Vietnam Itinerary 3 Days
Day 4: Vinh Long – Ho Chi Minh City – Fly to Danang & Transfer to Hoi An (B, L)
Have breakfast and walk along the village to enjoy the fresh air in the morning; after that, we take a boat trip to visit the brick kilns where we can see how the local people create beautiful pottery from clay.
Our boat will go along the floating village to see how the people farm catfish on the Mekong river. Stop the boat trip, we can visit Vinh Long market in the town. This is the best choice for us to take pictures of fish, shrimps, prawns, crabs, snakes, rice-field rats, tropical fruits, and vegetables…Then we transfer back to Saigon airport for our flight to Danang. Arriving in Danang, we are welcome by another tour guide and transfer to Hoi An. Check in and relax. Overnight in Hoi An.
Day 5: Hoi An Walking Tour (B)
At 8:30, start the walking tour around the ancient town to visit the Japanese Covered Bridge, the Pottery Museum, Tan Ky old house, the Cantonese congregation, the silk street of Hoi An, the temples, and pagodas of Chinese appearance. In the afternoon, we are free at our leisure. Overnight in Hoi An.
Day 6: Hoi An – Danang – Fly to Hanoi – Transfer to Dong Trieu (B, L, D)
Morning today, we transfer back to Danang for our flight to Hanoi. After 1 hour flight, we arrive at Hanoi airport where the Hanoi tour guide is waiting for us.
Then we will leave Hanoi behind for Dong Trieu town, which is located 120 km Northwest of Hanoi, and pass through the green fields of the Red River Delta. On the way, we will have a chance to visit one of the Humanity Centers, which supports local disabled children. Arriving at Dong Trieu town we will be introduced to our Japanese push bikes and then cycle through this peaceful area of country lanes and rice fields. We will also visit some schools, and Dong Trieu's ceramic villages, and chat with the local people. This evening we will become the guests of a local family.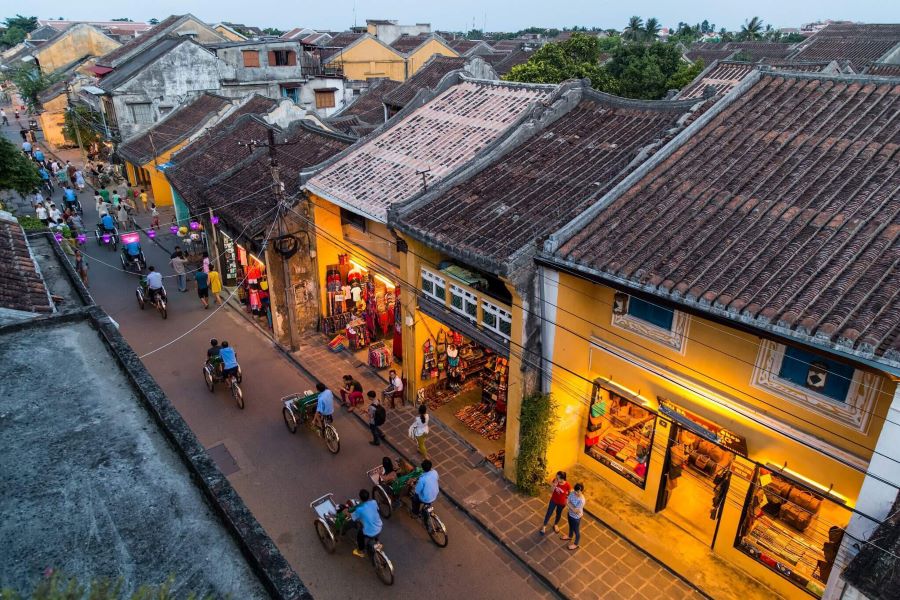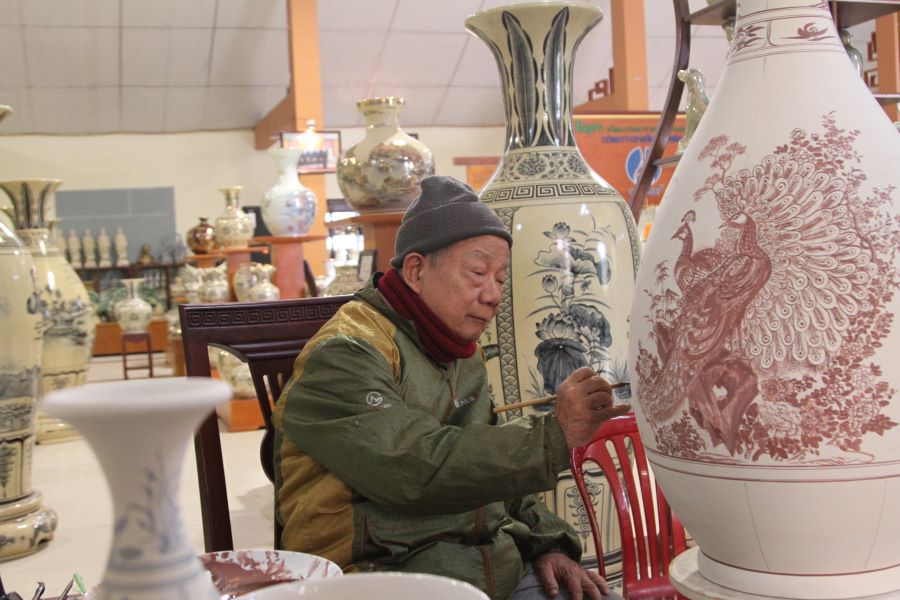 North Vietnam Tour Itinerary 6 Days
Day 7: Dong Trieu – Halong Bay (Overnight on Deluxe Junk Cruise) (B, L, D)
Today, we bid farewell to our local family hosts and leave for Halong Bay, the spectacular World Heritage Site. Arrive in Halong around 12:00. The crew welcomes you on board and enjoy a welcome drink, and check in to your cabin. Lunch with fresh seafood is served at 1:30 pm.
In the afternoon. start cruising into mystic Halong Bay to see the amazing karsts with different formations: Incense Burner, Finger Islet, Fighting Cock, Stone Dog…Stop in the floating fishing village – Van Gia village with its unique way of life for kayaking under trolling around the cave. Then head to the island for swimming, sunbathing, and kayaking through Bright and Dark Caves. There will be traditional games available for evening entertainment. Dinner and overnight on cruise.
Day 8: Halong Bay – Hanoi (B)
Enjoy sunrise in the bay with a cup of tea or coffee with a light breakfast. Sitting on the upper deck, you can relax while taking in the breathtaking beauty of the rocky islands rising from the crystal-clear water of the bay. After breakfast, take 1 hour walking around one of the biggest and most beautiful caves in Ha Long Bay: Amazing Cave. Check out from 10:00 to 10:30.
Cruising back to the jetty while brunch is served from 10:30 to 11:30. We continue cruising through the bay, along the way seeing more of the fascinating formations. Board arrives at the harbor by 12:00 for the drive back to Hanoi.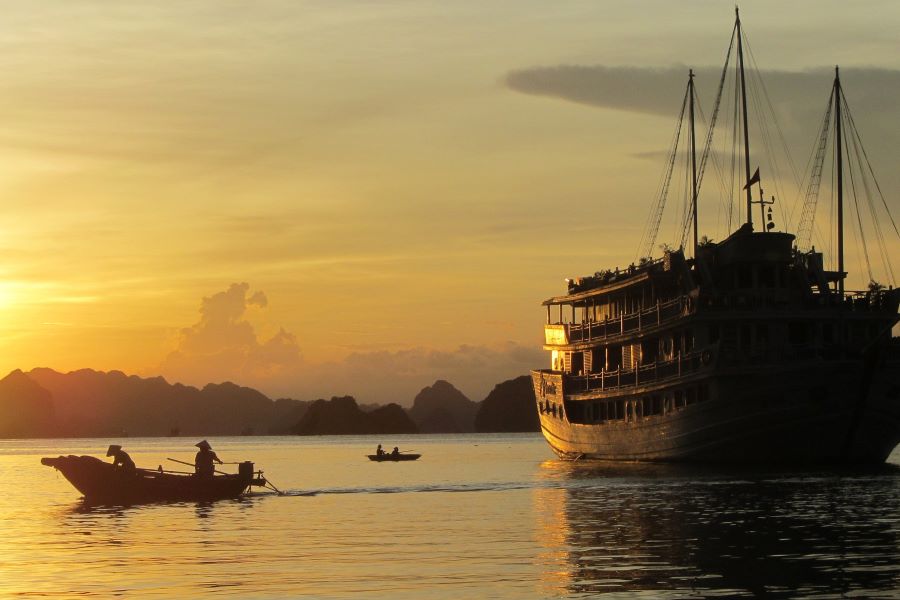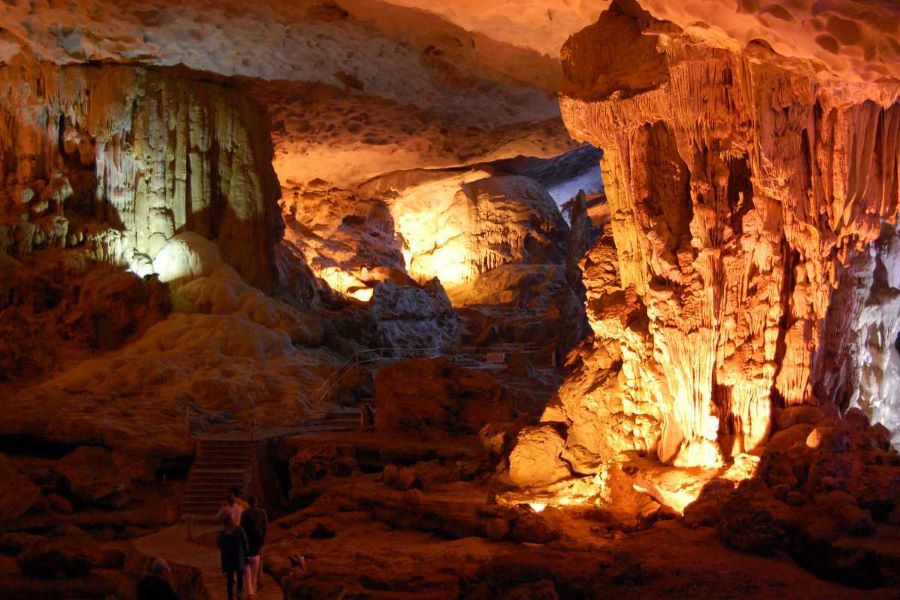 Day 9: Hanoi City Tour – Night Train to Sapa (B, L)
Today, start our one-day city tour from the lobby of the hotel. We will drive to Ho Chi Minh Complex, where we will spend a couple of hours visiting Ho Chi Minh's mausoleum, his former stilt-house residence, the Presidential Palace, the Ho Chi Minh Museum, and One Pillar Pagoda. Keep going to see the Temple of Literature originally built as a temple to Confucius, this is the site of Vietnam's first university dating back to 1070. The temple highlights the importance that Vietnamese society placed then and now on education. Lunch will be at a fine local restaurant in Hanoi.
In the afternoon, we will visit one of the most interesting museums in Vietnam; the Museum of Ethnology, which is widely acknowledged as the best in the country and has an extensive display dedicated to Vietnam's 54 Ethnic minority peoples. Following that, we will wander around the city by car to see the real life of Hanoian as well as the different parts of the city. Then we go back to the hotel for a short relaxation before transferring to Hanoi Railways station for our night train to Sapa. Overnight on the train.
Note: The train departs Hanoi at around 20:30 and arrives Lao Cai Railways station at around 06:30
Day 10: Sapa Trekking Tours (B)
The train arrives at the Lao Cai train station at approximately 06:30. There will be a vehicle waiting to transfer us to Sapa. Driving to Sapa is only 38 km but it takes around one hour to make our way up the mountains. Once at Sapa, we will check into the hotel (if the room is available – check-in time after 12:00). After freshening up and having breakfast we are ready to explore Sapa town. We embark on a lovely walking tour to the hill tribe village of Cat Cat, home of the H'Mong hill tribe minority people. As we walk to the villages nestled in the valley below Sapa we will meet some of the local minority people on their way to and from Sapa. Here we have the opportunity to share cultural experiences with families that live in the area. Overnight in Sapa.
Trekking Distance: 5km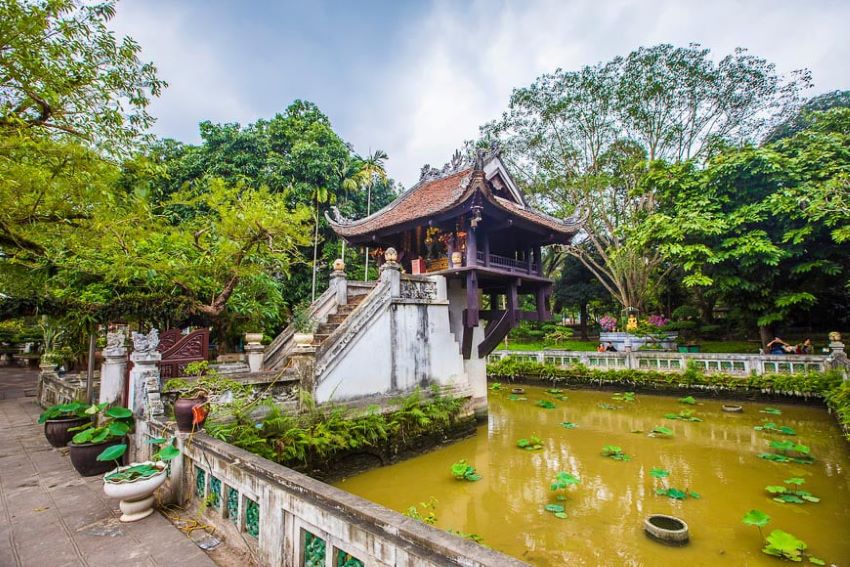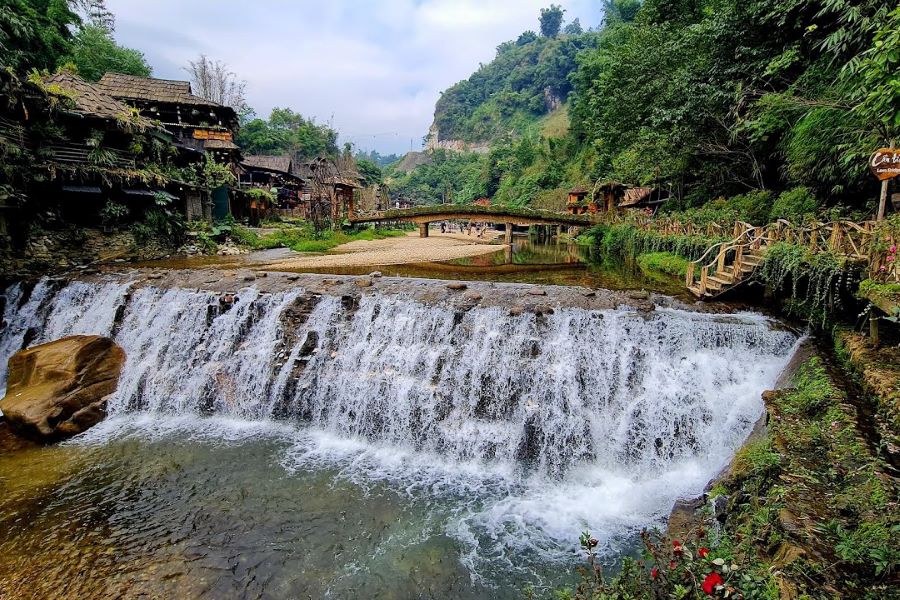 Day 11: Sapa – Night Train to Hanoi (B)
After breakfast in the hotel we then, embark on a lovely trek that will take us along buffalo paths and trails and through several hills tribe villages of Lao Chai & Ta Van, home to Black Hmong, and Dzay people. This is an absolutely spectacular walk through stunning scenery inhabited by some of the friendliest people you can meet. Once on the valley floor, you can really appreciate the wonderful scenery that surrounds you. The walls of the valley are covered with multi-layered rice-terraced fields and scattered villages. Return to Sapa and then to Lao Cai railway station by car. The guide sees you off there and takes you on the train.
Trekking Distance: 10km
Day 12: Hanoi Departure (B)
Arriving at Hanoi Railways station at around 4:30 AM, we will transfer to a hotel for our short relaxation and enjoy our breakfast before moving back to the airport for our flight home. The Vietnam tour itinerary 12 days by Vietnam local tour company ends.