General Information
Tour route: Dalat Railways station – Linh Phuoc Pagoda – Lat Village – Tuyen Lam Lake – Truc Lam Zen Monastery – Bao Dai Summer Palace – Crazy House
Duration: 1 days
Date: Daily
Start/End: Dalat/Dalat
Pick up: 08:00 AM at lobby of the hotel
Drop off: 05:30PM at lobby of the hotel
Group size: From 1 person up
Group tour: Available – Up on request
This tour will take you past a number of Dalat top attractions including Railways station, Linh Phuoc Pagoda, Lat Village, Tuyen Lam Lake, Truc Lam Zen Monastery, Bao Dai Summe Palace and Crazy House.
In the morning, our expert guide and licensed driver will pick you up at hotel in Dalat. Afterward, they will accompany you during the journey and give you first-hand experience that you just saw it on the Internet or Tv before.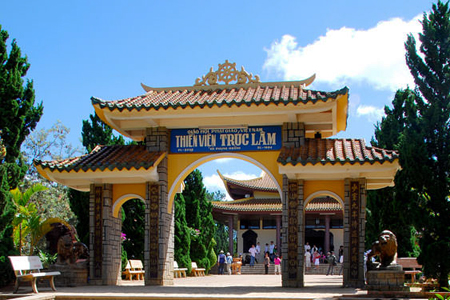 The first destination of the trip will be the 1,650m Robin Hill where you could seize than chances to absorb the stunning panorama of romantic city of Dalat. Afterward, the table car will bring you to Truc Lam Zen Monastery, the largest Zen Monastery of Vietnam. Your trip will continue as you visit Tuyen Lam lake which is considered as the nicest lake in Dalat. Holding hand in hand with your beloved one and taking deep breath while strolling around the lake are the exiting experience that anyone should try.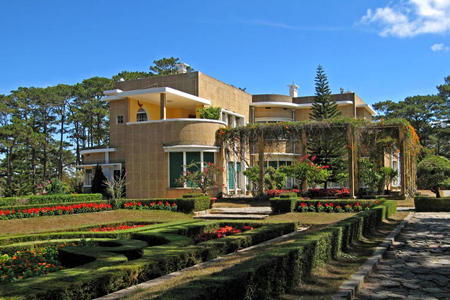 If you are curious about the life of Bao Dai, the last Emperor of Vietnam, Bao Dai Summer Palace is really an ideal place to start. Here, not only could you get opportunities to discover the living of the royal family, but you also get a chance to see well-preserved valuable items including several sculptures of royal family, the life-size white bust of Bao Dai himself and a smaller gold and brown bust of his father Khai Dinh, picture of Angkor Wat given to King Bao Dai by King Sihanouk of Cambodia and an engraved glass map of Vietnam.
Then, follow your guide to Crazy House, a brightly painted concrete house that sits upon the branches of trees and winds itself around trees, mimicking their shapes. This creepy hotel is well worth a free-wheeling architectural exploration of surrealism. After drop by Dalat Railway station, and appreciate its architecture and its old steam locomotive, we will make the way to Trai Mat go through vegetable farms which is reached by taking 7km train.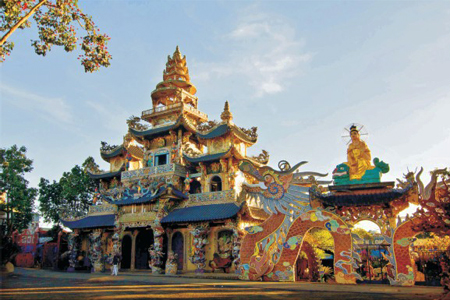 The rest time of your trip, the guide will take you to colorful- decorated Linh Phuoc pagoda which caved with tens of thousands of beer bottles and broken China ceramic. Even if you are a pilgrim or simply an architecture explorer, Linh Phuoc Pagoda is really a not-to-be-missed place and will satisfy your taste and your preferences. Finaly, make use of your last minutes in Dalat skimming through the daily activities of the local while you are in Lat minority people's village, where the people live in wooden, thatched huts.